COVID-19 Test for free at 3700 WEST 12TH AVE, HIALEAH, FL 33012 –Indago Research and Health Center Inc. No insurance is required.
Indago is offering free COVID-19 testing to help keep our community safe and healthy. If you're experiencing symptoms or have been in close contact with someone who has tested positive for COVID-19, we strongly encourage you to get tested. Our testing is quick, easy, and completely free.
To schedule your appointment, simply visit our website or call our dedicated hotline. Our testing center is staffed by friendly and knowledgeable healthcare professionals who will guide you through the process and answer any questions you may have.
Please be aware that testing is subject to availability and may require a wait. We appreciate your patience and understanding as we work to protect the health of our community.
In addition to testing, we encourage everyone to continue following best practices for preventing the spread of COVID-19, such as wearing a mask, practicing social distancing, and washing your hands frequently.
Together, we can beat this virus and keep our community healthy and safe. Thank you for your cooperation.
Open from 8:00 AM to 4:00 PM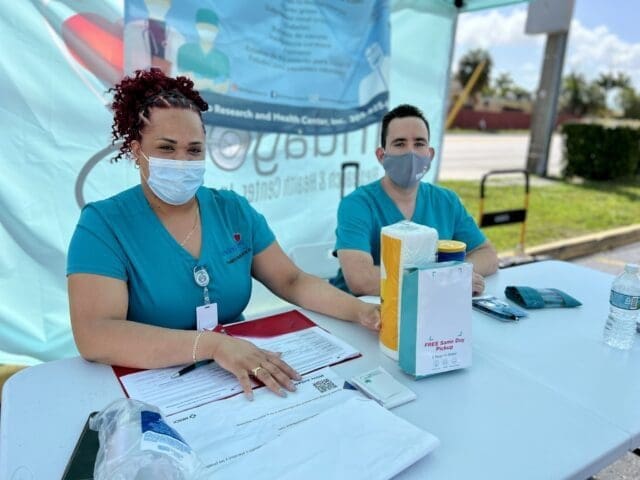 Frequently asked questions about no‐cost rapid‐result COVID-19 testing
How will my sample be collected?
We will collect a sample of nasal secretions by inserting the swab approximately 1 inch into the nasal passage (midway) in the nostril. The swab is rotated several times and removed gently.
What information do I need to provide to get tested?
You must provide your first name, last name, date of birth, address, phone number, race, and ethnicity.
This test may be helpful if you:
Have had Covid-19 and want to confirm you're probably no longer infectious to other people.
Want to resume social activities after having COVID-19.
Plan to visit a location or establishment that requires testing before arrival.